19 Dec

Oceansat-3 Launches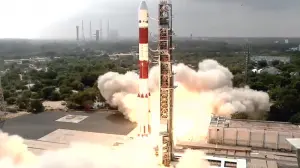 Satellite coverage is vital to your research and things are getting better. Indian Space Research Organisation (ISRO) launched Oceansat-3, a new ocean research satellite aboard PSLV C54 on 26 November.
Oceansat-3's primary role is to monitor the color of the ocean and collect data on wind speed and direction. In addition to these sensors, it carries the second Advanced Data Collection System 4 (Argos-4) payload from CNES. As you know, Argos is used to receive and relay data transmitted by remote research stations and data collection platforms around the world. In addition to Argos-4, PSLV carried four satellites for Astrocast. These four satellites will continue Astrocast's R&D work as it moves towards deploying a large constellation of satellites to relay machine-to-machine (M3M) communications.
This launch is in addition to the U.S.-funded launch of the GAzelle satellite by General Atomics last October, carrying the first Argos-4 payload into orbit. These launches are the beginning of the long-awaited expansion of the Argos satellite system.