13 Jul

Two Orphaned Steller Sea Lion Pups Get a Second Chance at Life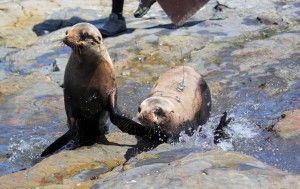 The Marine Mammal Center often fits its patients with tracking devices before they are released, such as the satellite tag you see here on California sea lion Sundance. Along with insights gained during rehabilitation, tracking these patients post-release allows the center to understand how our treatments help marine mammals thrive in the wild.
Sundance, who was rescued after being separated from his mother too early, has been spending time around Big Sur, California, since his release. The center's scientists will continue monitoring the animals' movements and behavior until the tags fall off. This tracking information allows experts to conduct vital research that will ultimately improve rehabilitation and conservation efforts!
Learn more about the pups at https://www.marinemammalcenter.org/news/two-orphaned-steller-sea-lion-pups-get-a-second-chance-at-life.